<![if !vml]>

<![endif]>
<![if !vml]>

<![endif]>
<![if !vml]>
<![endif]>
<![if !vml]>
<![endif]>
<![if !vml]>
<![endif]><![if !vml]>

<![endif]>
<![if !vml]>

<![endif]>
<![if !vml]>

<![endif]><![if !vml]>

<![endif]>
<![if !vml]>

<![endif]>
<![if !vml]>

<![endif]>
<![if !vml]>

<![endif]>
<![if !vml]>
<![endif]>
<![if !vml]>

<![endif]>
<![if !vml]>

<![endif]>
<![if !vml]>
<![endif]>
<![if !vml]>

<![endif]>
<![if !vml]>

<![endif]>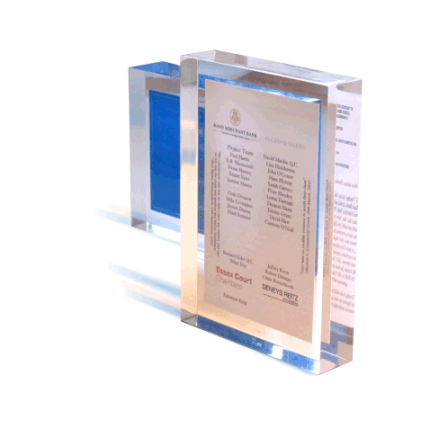 Acrylic Blocks - "Tombstones"
Called variously, arylic tombstones, blocks or lucites, they are used by many companies, financial, legal and commercial. They can be made in several sizes and contain an encapsulated printed inlay card.
Typically tombstones are square cut, crystal clear, polished acrylic. The printed inlay media can be paper, card or clear substrate. Print can be in full colour and on one or both sides. We can also surface engrave the acrylic if required.
« The image on the left show landscape and portrait formats in A6 and A5 sizes. You can also see how the encapsulated inlay card "floats" deep within the acrylic block.
» Next page for "Special 3D Project" Acrylic
BDA London :
Contact us for all details & prices
Tel: +44(0)208 444 8934
Em: » info@bda-london.co.uk

To unsubscribe from this email please click this link, making sure that you add the phrase UNSUBSCRIBE ME in the subject heading. © BDA 2011. Contact BDA on Tel: 0208 444 8934 for all details, prices and branding options. All products subject to availability, while stocks last. Images are representative only. E&OE. Registered in England. Company registration number: 06573045