Acrylic Special 3D Projects Blocks
Acrylic Special 3D Projects Blocks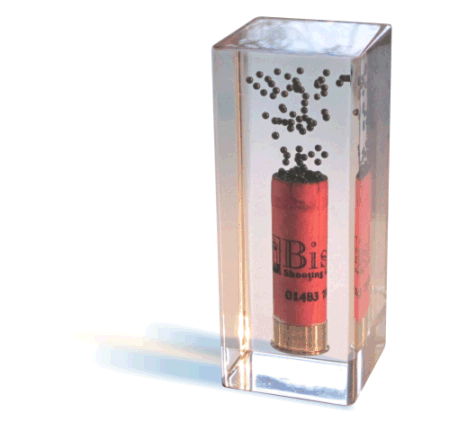 Acrylic "Special 3D Project" Blocks
Make intriguing Awards, Plaques, Corporate Objects d'art, Corporate Gifts and Mementos. They are used by many financial, legal and commercial companies. Because, company logos or products look superb embedded into custom made acrylic shapes.
These special pieces will lift your corporate image to another level. Challenge us to design and create a "landmark artwork" for your company. The crystal clear, polished acrylic will keep your 3D object perfectly for posterity.
« The image on the left show an Acrylic column containing an encapsulated Bisley cartridge with shot. You can see how the encapsulated subject "floats" deep within the acrylic.
» Previous page for Acrylic "Tombstones"
Contact us for all details & prices
Tel: +44(0)208 444 8934 Em: » info@bda-london.co.uk
Contact BDA London, Tel: +44(0)208 444 8934 for all details, prices and branding options. All products and services subject to availability, while stocks last.
Images are representative only, E&OE. BDA London (Business + Design Advertising) Registered in England. All content in this website © BDA London 2016.