<![if !vml]>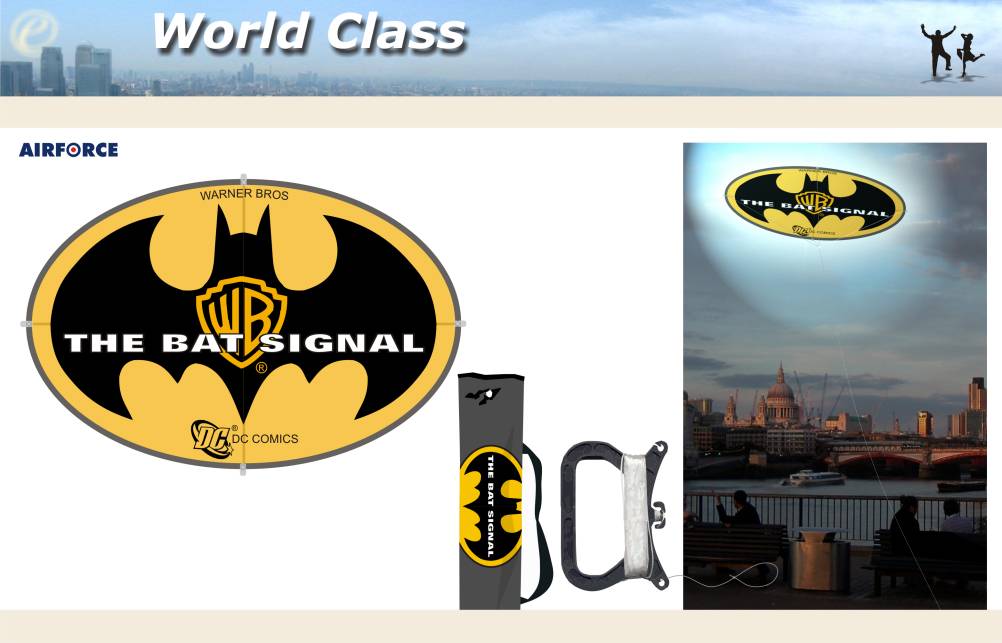 <![endif]><![if !vml]>

<![endif]>
<![if !vml]>

<![endif]>
Custom
Logo / Character Kite
©
<![if !vml]>
<![endif]>
Contact BDA London, Tel: +44(0)208 444 8934 for all details, prices and branding options. All products and services subject to availability, while stocks last.
Images are representative only, E&OE. BDA London (Business + Design Advertising) Registered in England. All content in this website © BDA London 2014.
Corporate Kites
Corporate Kites
CORPORATE "LOGO" KITE
Kite sizes, as you require.
Material: Polyester or Nylon.
Struts: Carbon Fibre.
Let our BDA London designers
create a unique and spectacular
Kite design for your company
featuring your logo
or product hero.
Fabric can be selected
from a range of
standard colours.
Our acknowledgements to:-
Bob Kane, creator of the Batman character.
DC Comics, distributor of Batman Graphic Novels & Comics.
Time Warner, Warner Bros Pictures, distributor of Batman Films & Video.
<![if !supportEmptyParas]> <![endif]>
This design concept for the Bat Signal Kite, created by BDA London studio.
LOGO / CHARACTER KITE :
Rigid Carbon fibre
struts, single line
control. Includes
Kite and hand Reel.
<![if !supportEmptyParas]> <![endif]>
<![if !supportEmptyParas]> <![endif]>
<![if !supportEmptyParas]> <![endif]>
FLYING :
Easy to launch and fly.
Light to steady breeze.
Suitable for Children/Adults.
<![if !supportEmptyParas]> <![endif]>
BDA London :
Contact us for all details & prices
Tel: +44(0)208 444 8934